A keystone of the American cuisine are the steakhouses. They are iconic, many has been passed down for generations. Even at this age where more people turn to vegetarianism and veganism, steakhouses seem to be able to hold their heads above water, and that's not because of luck. The environment and ambiance provided by a steakhouse is unique – it is just wrong to eat a piece of sliced broccoli seared both ways in a dingy, dark restaurant. Some argue that there is a certain power in consuming steak cooked medium rare; I don't agree with that view, but I do enjoy spending ridiculously amount of money for the primest of beef. Me and the steak. Ron Swanson in Park and Rec, he understands it. Steakhouses are important American institution. It is because we are able to cultivate large amount of land, and have this much personal freedom, that we can once-in-a-while, splurge on expensive steaks. The culture of food definitely arises from wealthy society, and steakhouses used to be that pinnacle of the food pyramid.
I do not know if it is by choice or by design, but Barclay Prime is the steakhouse representing Philadelphia. Previously, I would drive hours to go to Peter Luger's in Brooklyn. That was the closest steakhouse worth throwing money at. There are a few local steakhouses nearby, including a few chains, that would fill in the blanks between each Peter Luger's visits, but I have always itch for something more that's closer. That's why I decided to try Barclay Prime. Unfortunately, Barclay Prime only opens at night, which means I can only go on the weekends. And guess what, everyone else wants to go on the weekends too. Furthermore, I feel bad wasting a nice booth seat alone, so there wasn't much chance for me to visit this steakhouse. Until now.
Most steakhouses are old. Barclay Prime is relatively new, only been around the last decade. It is one of the Starr restaurants, which include other big names such as Dandelion, Parc, Buddakan and Morimoto. Located in the nicest neighborhood in Central Philly – Rittenhouse Square. In fact, it faces the main square. I had been to the square, but fail to notice the minimalist front. A simple "Barclay Prime" sign above a pair of glass door denote the entrance. Even when we know the exact address, we walk right past it twice. Once inside, it feels more like a lounge than a restaurant. We arrived slightly ahead of time, and sat at the bar area. The bartender ask if we need a menu, but she knew the answer. Short while later, we are lead to our table.
This is a pretty different steakhouse. The dining area is dim, but the tables and chairs are in the brightest lime green color. The chairs are literally sofa, each with extra pillows. Barclay Prime strike a balance between being too casual to be someone's house, but too formal to just be another steakhouse. Definitely different. The order are the 14oz 28 days dry-aged NY strip, the 32oz 35 dry-aged Porterhouse and the Wagyu slider duo. The scotch list is very long, but I did not look at it; a new experience for me to eat steak without a glass of whiskey in my hands. Most people look like they are on a date – not surprising considering the price and the proximity to Valentine's day. As late as our reservations are, there are still a lot of people dining, even on a Sunday night.
We are served with large pieces of bread. There are neither fancy butter, nor fantastic buns, which is unlike the rest of the restaurant. I hope the steak is better than this. The sliders come out shortly – they are cute little buggers, one with tomato slices and one without. That makes no difference, because the patties dominated the flavor. They, including the bun, melts in the mouth as soon as they arrive. Without the dry again process, the wagyu beef is just fattier, high quality meat. There are no meaty or smoky flavors. Just a juicy mess that dissolves in the mouth. Pure umami. As we wait for our steaks, our server presented us with a couple fancy knives. My mom selects one made by Porche (the car company) that could stand on its own; my dad choose a small knife, and I get the Japanese samurai knife. They might not be better than any other high quality knives, but the experience is kind of fun.
I requested our steaks to be cut so that they are easier to share. Why do a bad job when there are professionals in the kitchen? When our steaks arrive, they are presented on a fancy wooden cutting board. It is so impressive that the table behind us questioned their server for not recommending that, which he calmed them down by explaining the situation. The NY Strip is medium-rare, while the porterhouse is cooked medium. Of the two steaks, all of us prefer the NY strip over the Porterhouse. The funky flavor from the dry aging process in the NY Strip beats the gentler flavor of the porterhouse. They are both juicy, tender, excellent steaks, but the NY strip is the way to go. This is uncommon because I generally prefer ribeye over a prized sirloin, but I guess the cut doesn't mean much after the dry aging process. I even try to a blind test, and still choose the NY Strip. The dry aging process did something magical just to the NY strip. I order a key lime pie, which is awesome, pairs well after a greasy meal. We each got a macaroon as a thank you dessert.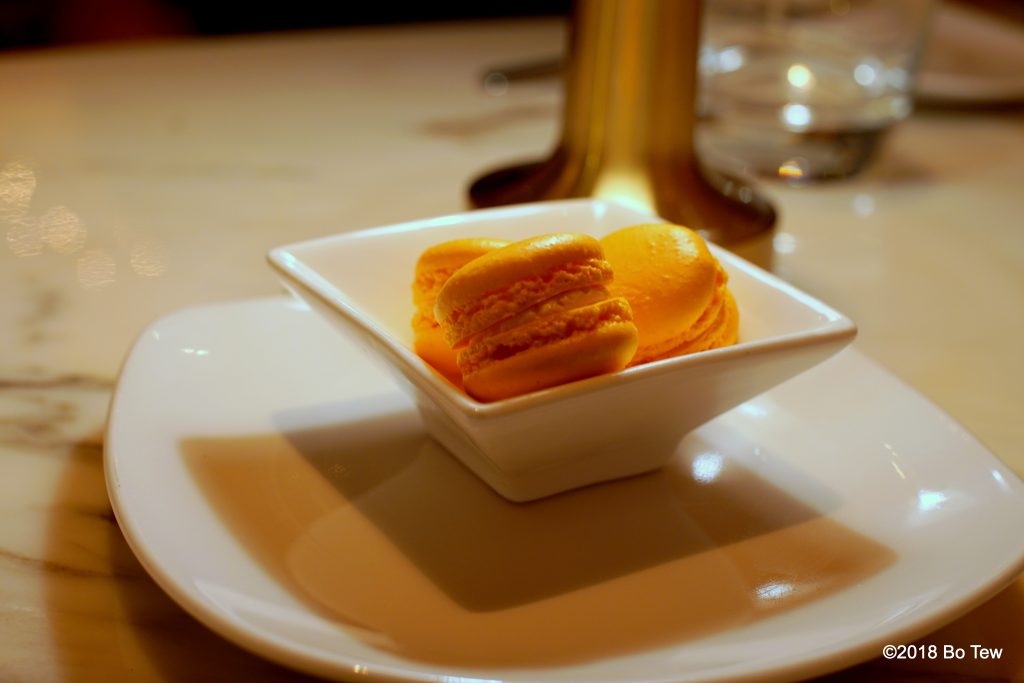 Seriously, the bar is set very high here. The steak themselves are not extraordinarily expensive, especially with the location of the restaurant. We have an excellent night, the atmosphere is fun and friendly, at a high end modern lounge with sofa as seats! Oh, the steaks are fantastic. I might come here more often, if only they open for lunch!
Visited: Feb 11, 2018 at 8pm for dinner.
Address: 237 S 18th St, Philadelphia