We ate lunch at Beirut, a Lebanese restaurant in Troy. The opportunity to come to Troy is rare and far between, so I suggested that we stop here to try Famous Lunch. They are famous after all. The restaurant itself is really old and frilless. We are talking decor that dates back to the 20s, and has not seen any updates ever since. The interior is sparse – there are booths on the right side and counter sitting on the left along the length of the restaurant. Two older gentlemen are tending to the grill at the front, while another is taking care of everyone else. I order a single hot dog, and I bet they think I'm hilarious. The sign for the price is kind of sketchy, so I do not believe that it is going to cost be $1. The guy at the register ask for $1. It can't be any more comical than this. The absurdity of the situation is mind-blowing. After I placed my order, the next order is a dozen of hot dogs – I have a feeling that's the normal size. It is like going to White Castle and order a single sandwich. It is legal, but nobody does that.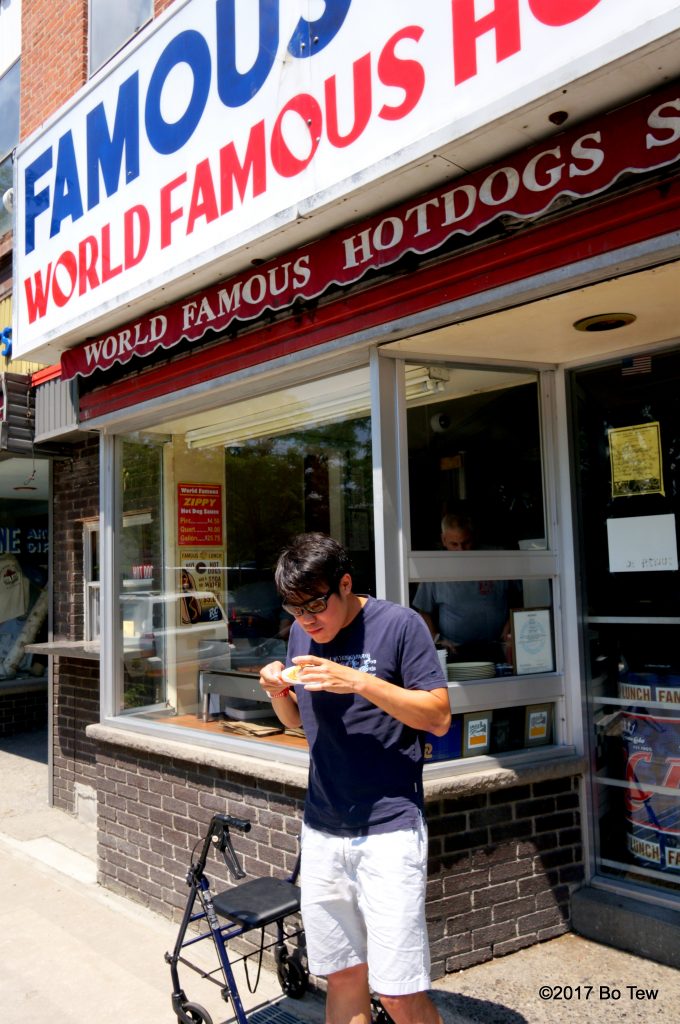 A single hot dog sitting on a paper plate. That's what a dollar can still buy you in some parts of this country. I did ask for Zippy sauce, which is basically homemade chili without the beans, or basically the best parts. By the way, if you have not figured out, this is a tiny hot dog. It is slightly larger than cocktail sausage. Barely. Most of the flavor comes from the Zippy sauce, and is rather sweet and a bit salty. As the sauce is so dominating, the sausage isn't very flavorful. The texture of the sausage, on the other hand, is very snappy. The bun, the final component, is chewy, and probably some store name brand, nothing to ride home about.
Overall? I think it is fine. The experience is really cool, and Famous Lunch is rather cheap. The next time I'm here, I'm definitely getting more than 1. The menu at the restaurant comprises more than hot dogs, but I did not take a second look. Troy isn't that big of a city. Sure, there are probably delicious food around, but anyone, literally anyone who can eat meat, should be able to chow down one of these. Come on, why do you think they are Famous?
P.s. If you want to know why they are famous, go to their website. Basically, operation hot dog was sending some of these hot dogs to a local Troy resident who was stationed at the Moscow Embassy during the Cold War.
Visited: July 21st, 2017 @ 1pm.
Address: 111 Congress St, Troy, NY 12180
Website: http://www.famouslunch.org/Welcome.html