It is no secret that Peter Luger's stood the test of time. Established in the 1800s and after a century in existence, the Brooklyn branch was awarded the prestigious single Michelin star for its consistently awesome steaks. Everybody bragged about this little restaurant – great food, good atmosphere and friendly service. It's location in NYC, near a subway station, also makes it easy to get to by everybody who is willing to pay a little more for a taste of history – mouthwatering history, of course. Well, that's for everyone except me; it has been on my to do list for some times now, but I just never had the luck to make it there. I had even made it to Keens, another establishment in NYC, a year earlier. Finally, though, I had managed to secure a reservation, and it is going to be the first thing on Monday morning after the NYC marathon. I don't think i could top that schedule again, ever. And it is going to be my first ever experience at the original Michelin-starred restaurant.
Fair warning for those who would like to come here – reserve a table as soon as you possibly could. They fill up fast, and they do not serve food at the bar when they are busy. My reservation is for 11.45am, when the restaurant begins its lunch service. I arrived slightly before my scheduled meal but the line was long going into the restaurant. It doesn't matter if you had made a reservation at this point because everyone else did too, so wait patiently for your turn to give your name to the gatekeeper. The host instructed the server, leading me into the right wing of the restaurant, a nice window seat. I have a great view of the large dining room, which was filled with tourists, most of them are Japanese, for some odd reasons.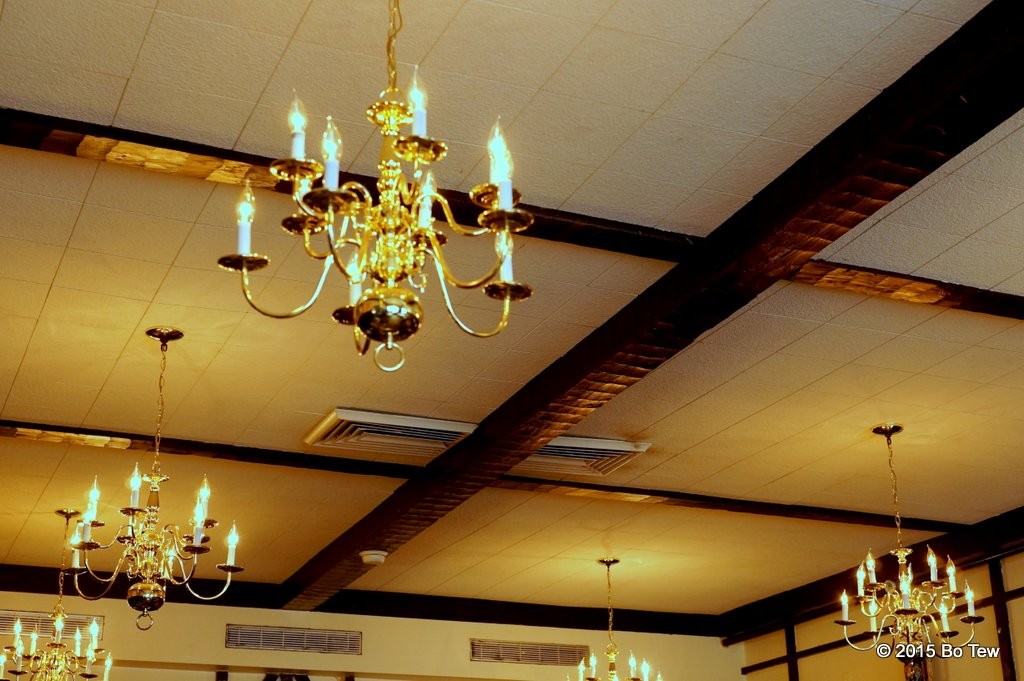 The dining room is decorated mostly with wood – wooden tables, wooden chairs, wooden wallpaper, etc. I can imagine everyone used to wear their best if they were to dine at steakhouses with this caliber; nowadays, however, only the servers still have nice little bowties. My excuse for not dressing up – the main purpose of my trip was to run the marathon and I did not want to carry extra clothes just for a single meal. Excuses, definitely.
I was served with a bowl of bread and Peter Luger's secret sauce. The bread is decent and the secret sauce is a sweet-ish A1 steak sauce. I dipped the bread in the sauce, and decided it was a bad idea. It took a while for my server to give me a menu, but I had basically decided what I wanted – a medium rare "steak for 2". It is basically a dry aged porterhouse, which contains both filet mignon and ribeye, and it is the specialty here. I would had also gotten more sides, but I stick to just a slice of bacon and a glass of Scotch. They are damn good, if anyone was wondering.
The steak came out as a surprise because it came out before a few other tables. My server served the still steaming porterhouse onto the table and reminded me to take a picture, before proceeding on to gently picked up the prime slice of filet mignon and ribeye and put them nicely on my plate, and finishing it by pouring the meat au jus onto the steak itself. The two slices are slightly glazed by the oil and they look as if heaven had match-made them. Dry aging made the steak tender, and the chefs demonstrated their skills with the signature charred crispy surface while still retaining the pinked center. The steak alone is slightly dry in my opinion, but the au jus made the steak perfectly juicy.
Portion-wise, I think the steak for 2 is a little bit small for 2 people if you only get the steak; if you are planning to get their delicious creamed spinach, or some kinds of potatoes, I think it will be just fine. I wasn't famished, but I wasn't full either, and managed to clean up the steak. The smoked bacon is thick and have a woody flavor, evidence that it was indeed cured with some wood. This might be too much meat for most people, but I finished a marathon a day earlier, so I think I deserved this meal.
The server brought the check some time later, but did not rush me out; the service wasn't too busy and there were many others who arrived before me and still working on their steak. He gave me two chocolate medallions with Peter luger imprints on it. I think he gave me 2 for spending so much money for lunch. Peter Luger's does not accept credit card, but you do not need to bring cash because they do accept debit card. Remember to pay at the cashier on the way out. The line was still snaking as I walked out and I wondered – how much choice steaks they would go through each day. And that made me think how many people had been entertained here, and how many cows died entertaining these guests. I started to get depressed, and I remembered how great the steak taste, and I walked away with a smile on my face.
Visited: November 2nd, 2015 at 11:45am for lunch.
Address: 178 Broadway, Brooklyn, NY 11211
Website: https://peterluger.com/