It is weird that Washington, D.C. doesn't have good steakhouses. All the power and money is there, yet the humble steak has no representation at all. Forget the beef, and go for ethical cuisines if you are in town. After all, this is a city of ambassadors. I tried Ray's The Steaks, and it just doesn't feel right to call it the best of D.C. (it is in Alexandra, too). I took another hard look and found Rare, a chain shop from Wisconsin. That's a good start, and I hope this restaurant will make Paul Ryan proud of his red steak.
Located only two blocks away from the orange hue White House, Rare is a huge two story wooden-dingy inspired steakhouse. Well, technically the steakhouse is located upstairs, while the tavern and the very modern Oyster bar (literally) is located beneath. Unlike other intimate restaurants, the front of the shopped doesn't have a wall; instead they opt for transparent glass panels, so diners can be seen from the outside. That might be a slight exaggeration, but there is less privacy if you sit closer to the front. As much as it looks cool, I don't get the concept – the only thing to see is another boring black office building right across the street. Maybe this is to show outsiders that you can afford to dine here? I will never know. We arrive early for the dinner service because sun sets by 5pm, and the Smithsonians with it. The place is dead. We are brought upstairs to a very elegant c-shaped booth and presented with a huge menu. Who knew there are so many ways to prepare steak?
After debating over what to get, we give up and throw in the towel. Our host is kind enough and help us design something that we would enjoy, with the huge 50oz. dry-aged double bone union chop (2x ribeye), roasted bone marrow and truffled gnocchi. I also order a glass of scotch, which I have not done in a while. This is the time to bust out the old steakhouse rule book.
As much as the service is very attentive, there is just nothing to do while we wait for dinner. I don't mind the wait – the price tag on the steaks totally justify spending as much time here as possible. While I clean my lens, my parents hang out at the upstairs bar and meet an elderly couple. They are celebrating her birthday too, except they are old enough to be my grandparents. Here is to wishing that when I'm at their age, I'll still be eating big and expensive steaks on my birthday. Cheers.
Food. The bread looks fancy but is pretty average. I think it is supposed to be garlic bread and shredded mozeralla over the top. The mushroom gives the bone marrow a lot of flavor and grease, making it very delicious. Our steak is cooked to medium rare, and I think that's a touch too red. The crust of the sear beef is amazing, as it is charred and very flavorful. However, the meat itself is only alright, and I couldn't taste the dry aging. Maybe the steak was too thick? Overall, the dinner is cheap for its location in the city, the quality of the beef, and the decor of the restaurant. Price tag isn't what drive sales though, and I dont think they can't be compared to the greats of other cities yet. D.C. is weird.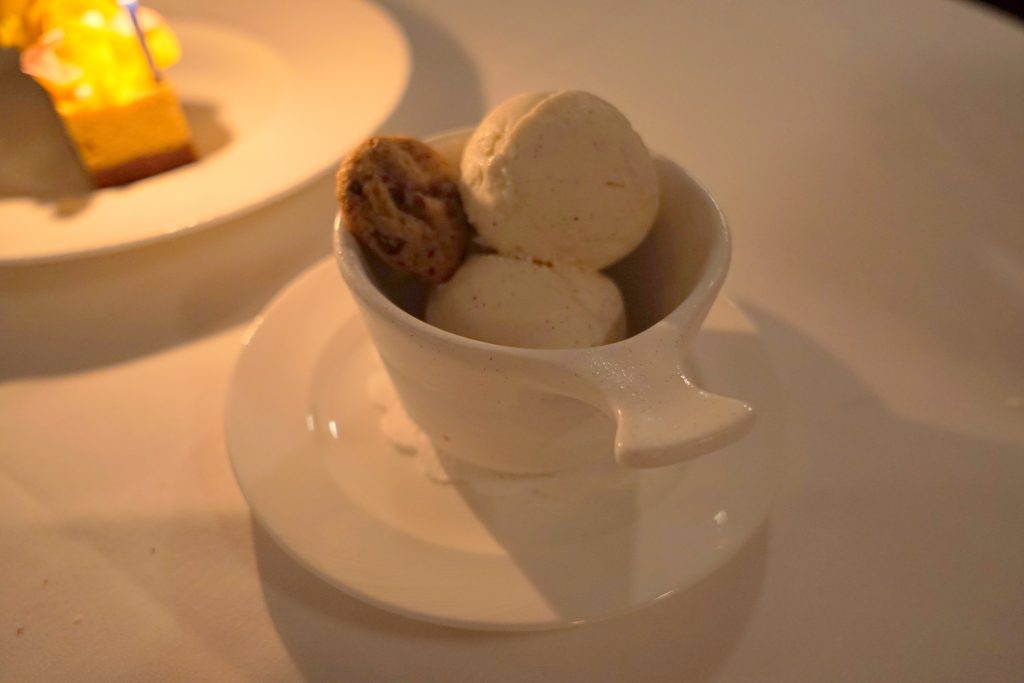 I plan to go to the nearby gelato shop for dessert, but the sweets menu here, though short, isn't half bad. We place a small order but the restaurant give us extra as they ran out of pistachio ice cream we ordered, and happened to be my dad's birthday. As a result, we end with a pumpkin cheesecake, 3 scoops of vanilla ice cream and a bittersweet chocolate pot de creme. We did not order that much because the portion for the dinner was too much, and we were right. We are completely stuffed, and still given macaroons just before we leave. The hospitality here is over the top!
As we are leaving, the restaurant is packed and starting to be a bit loud. Even though Rare is a fancy restaurant, most people are dress down. I believe that the weekend crowd in DC isn't as formal as weekdays'. There is a date at the table next to us, but it seemed to be a surprise for the girl. She asked the service what's good here (hmm), and why are there so many different cuts (hmmmmmm.) The date is definitely going well. Me, I'm still on the hunt for the amazing DC steakhouse. Stay tune.
Visited: Nov 3rd, 2018 for dinner at 6pm.
Address: 1595 I St NW.
Website: raresteaks.com