It is pretty hard to find decent southern/soul food in the Mid-Atlantic. I had assumed that large metropolitan cities, such as Philadelphia and Baltimore, made up with a diverse population, would consist of one chef who grew up in the South and decide to pursue that line of cuisine. Alas, there is no such luck; maybe that's because Yankees have no appetite for greasy and fried food. That's why, I was so excited about REX 1516, a gastropub located in Philadelphia that serves dishes inspired by the south.
Rex 1516 is situated on South Street and is a mile away from center city, so the crowd here are made up of mostly locals. The street itself is pretty nice, filled with restaurants and arts/crafts shop. I came on a Saturday morning and they are serving brunch – that also means that everyone here is a couple. That is not surprising, but the fact that everyone look and dress beautifully hit me hard. I felt like I'm the odd ball here, but whatever, it isn't my fault for not getting the memo. The restaurant is rather big but it is divided into two to give it a more intimate atmosphere. The decor is of a wooden rusty design found in most gastropubs.
I chose to sat at the corner of the bar, but a couple tried to inform me that the seat was taking; apparently, she meant my seat was reserved for her couple-friends, but I took it as she meant the seat with her handbag on, which is in between us, so i told her it was fine. It turned out for the better because there were still empty seats and they ended up occupying a corner of the bar, which made conversation easier for 4 people. Pro tip? :D
The bartender was pretty attentive and gave me a menu as I sat down. The beer list looked pretty good, but I asked for a mimosa, and he dabbed a little bit of orange juice/extract with lots of champagne. I liked that. I knew this place was famous for southern food but I did not know for which dish. Looking at the menu, the chicken and waffle benedict caught my eye. It is hard to get chicken and waffle wrong, but egg benedict isn't an easy dish. Kind of an interesting combination.
As I waited for my food, the TV was showing Saturday morning cartoon. It looks like something that came out from early 90s, and I did not recognize any of them. The other patrons, who were slightly older but not by much, were commenting about the shows. The wait for the food wasn't too bad, and pretty good for brunch.
This isn't your typical chicken and waffle. First of all, there were two poached eggs on top of a thick cut of pan-roasted chicken, which is on top of quarter sliced Belgian waffle. This was drizzled with Hollande sauce. The poached egg turns out too slimy and as I was cutting through it, it flew out of the plate and landed on the bar. I salvaged it (it wasn't broken yet) but the table now has smudges. It was paired with breakfast potatoes – I thought that was an interesting choice. The chicken, egg, waffle combination is good, but I wished that the waffles were crispier and poached egg made it hard to cut. The entire plate was a mess by the end of the meal.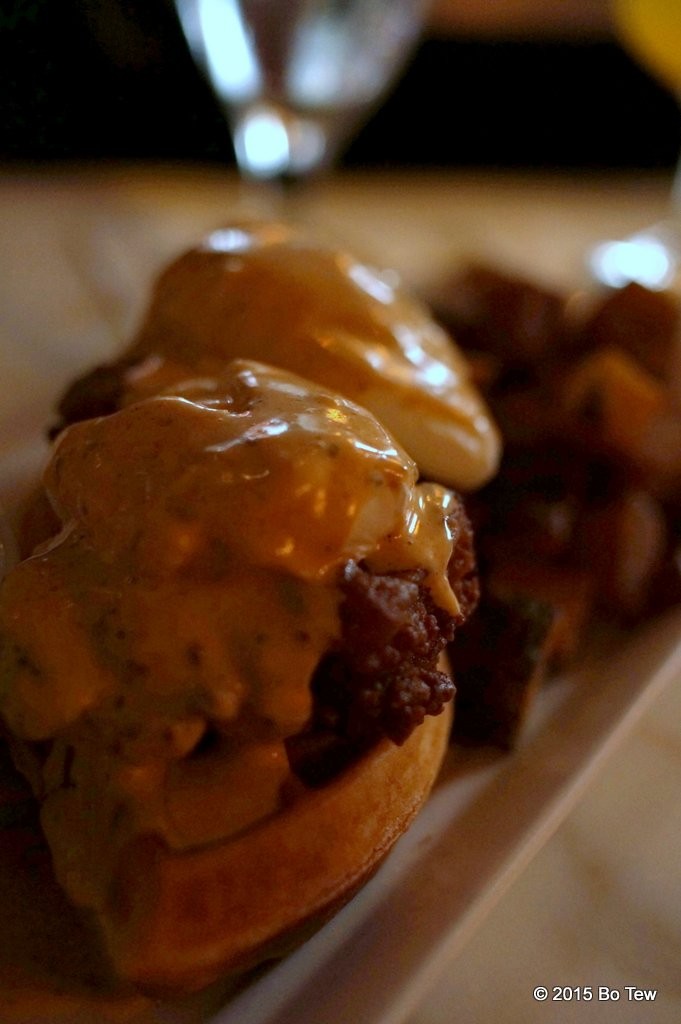 Overall, great vibe and pretty tasty food. It was also pretty easy on the wallet too, to my surprise considering the good looking people dining there. I'll definitely come back some other time to try some real southern inspired food. I mean, chicken and waffles aren't even close to that. And next time, I'll remember to get Bourbon, and not Mimosa, even if it is a Saturday morning brunch.
P.S. I think 1516 is name after the address. Rex for the dinasaur?
Visited: October 3rd, 2015 at 11am for brunch
Address: 1516 South St, Philadelphia, PA 19146
Website: http://rex1516.com/