I was surprised that Oregon only has one national park. This state is such a wonderland for hikers, campers and landscape photographers. After some researching, I learned that many wonderful places are administrated by the national forest and the state parks. That would make Oregon's state parks pretty insane. The one state park I have visited so far is the Ecola State Park by the Pacific coast, with an iconic northwestern stormy coast with rocks in the distance. Due to the coronavirus lock down and the lack of state parks in the area, I have not had the opportunity to visit other state parks. With the slight relaxation to go outside again, we found ourselves craving for some new natural areas. Socrates Hotchkiss Tryon, Sr. probably craved similar wilderness, and went on the Oregon trail (which is real) and finally landed in Portland in the 1850s. He calls dips on a piece of land, and this parcel of land was passed around until the county purchased it to create the only state park in the vicinity of Portland – Tryon Creek State Natural Area. (Which was how Americans stole most of the US, by the way)
We are pretty lucky to find parking as we arrive late morning on Sunday. The lot is full but there are no one around. Tryon Creek does not seem large, but upon looking at the map, I soon realize there are so many diverging trails and could accommodate a large number of hikers. Really want to go to the visitor center to inquire about a good path, but it is closed. The map at the trailhead does not indicate any viewpoints in the park, so we pick a route based on distance and somewhat circumnavigate the heart of the park. There is a "communal" farm right by the trail, but it is also closed from the virus. My life is so wrap in repetitive days filled with work that I have not been affected by the epidemic, but it is times when I see shops are closed, when it hits me that this way of life is unprecedented in modern history. Hindsight is not 2020, nobody can predict any of the stuff that happened so far.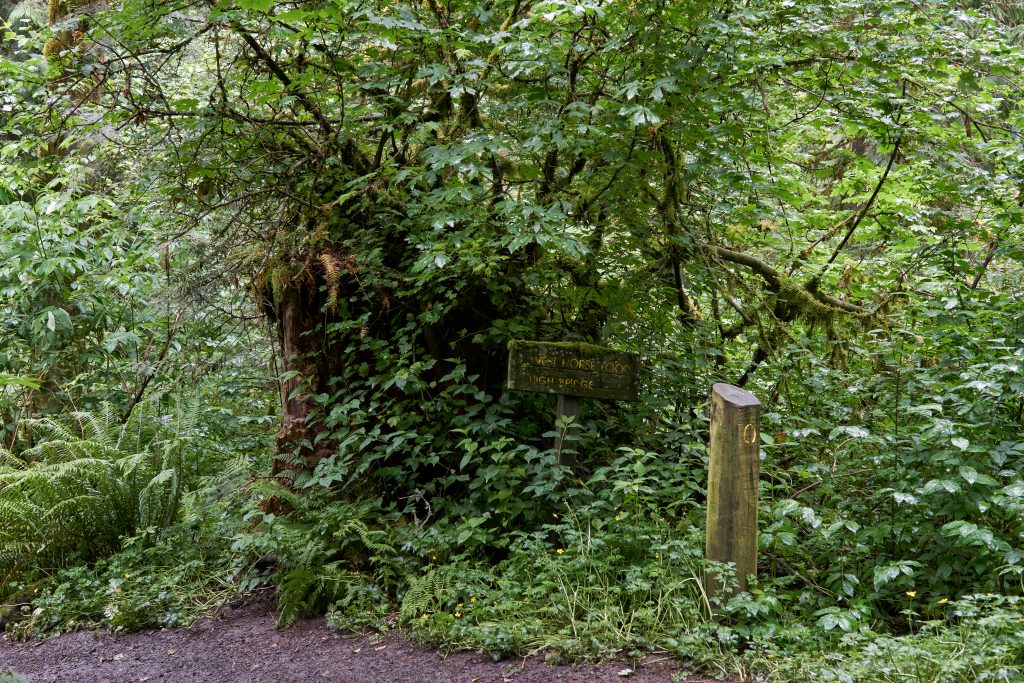 The trails are narrow, but we rarely cross path with other visitors. It is mostly wooded area that one could find in a suburban area, with some rolling hills which make the next corner seems exciting. (but there were no big surprises) Unlike the most of PNW, this park was logged for centuries until 50 years ago, and the flora resembles what we could find in the surrounding areas. It could be that all the trees I'm familiar with are mostly invasive species, in which case, Tyron Creek wouldn't as natural as I thought. But I have no idea – I'm just a hiker who takes pictures of green leaves on brown tree trunks. For example, we do not spot any gigantic evergreens that I have fell in love with. Moreover, there are plenty of signs that points towards the campus next to the park, reminding us that we are only a few steps away from civilization. Nonetheless, Tryon Creek feels like a large natural park rather than a green square in the city, and for that, it is rather unique and worth a visit. Then again, Forest Park is right around the corner, which offers better views and feels more untouched. I strongly believe that's the reason there are more families and runners here, as Tryon Creek is accessible to the neighborhood and to those who can't summit the mountain at Forest Park.
Maybe we'll come back again, but I would need to find something interesting or unique to make the trip. Otherwise, we will be heading west, into the Tillamook State Forest!
Visited: June 7th, 2020 at 11am.
Address: 11321 SW Terwilliger Blvd, Portland
Website: https://stateparks.oregon.gov/index.cfm?do=parkPage.dsp_parkPage&parkId=103